Report from Professor : Makiko Omura
2017 Field Study A: Environmental Issues in Hawai'i
"Various Experiences"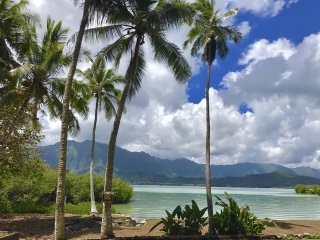 The field study in Hawai'i this year was conducted for 14 days.
The students had English language course in the beginning, followed by lectures ranging from environmental and resource economics to biological species issues. We had field visits to take a part in endangered indigenous plants conservation in Kalaeloa and to learn about the technologies applied to plant conservation in Lyon Arboretum as well as about the difficulty of achieving balance between tourism and nature conservation in Hanauma Bay. We also visited the Hawai'i Institute of Marine Biology and had a hands-on experience distinguishing endemic and invasive alien marine species. A new visit was made this year to the largest solar power plant in Oahu Island, which plays an important role for Hawaii to achieve the 100% renewable energy goal. This was the first time also for us to do a dolphin tour, which gave us a good opportunity to think about the relationship between tourism and nature animals.
While some students did not know anyone joining the trip in the beginning, they all became good friends and often cooked and dined together at the condominium, also celebrating a birthday party of one of the students together. We also had an unexpected and enjoyable experience of being invited to a BBQ party by a Japanese couple living in Hawai'i. The trip wasn't trouble free that some students fell ill and some came back to the condominium after the set curfew due to troubles at the restaurant, but fortunately, none was major. On the last day at the University of Hawai'i, the students presented their experiences and what they had learn in English with the presence of the UHM College Dean Prof. Denise Konan and the programme coordinator Prof. Nori Tarui. This was a rewarding opportunity for them.
I wish to express my gratitude to everyone who made this trip so excellent.
Programme : 2017/9/4 - 9/17
9/4 (MON)
PM
Assemble Narita Airport
20:10 Leave Narita(CI018)
9/4 (MON)
AM

08:40 Arrive Honolulu
11:00 Arrive Hotel/Waikiki Town Orientation
13:00-14:00 Campus Tour
9/5 (TUE)
AM
English Class
PM
English Class
9/6 (WED)
AM
English Class
PM
English Class
9/7 (THU)
AM
Field 1 Kalaeloa Heritage Park Restoration Site   
PM
LEC 1 "Endangered Species Conservation & Restoration Activity + Ancient Hawai'ian Cultural Heritage Sites"

9/8 (FRI)
AM
LEC 2 "Property Rights in Fisheries"
LEC 3 "Reaching 100% Renewables for the Power Sector in Hawaii"

PM
Language Exchange
Field 2&LEC 4 NASA Pacific Regional Planetary Data Center (PRPDC) Centre "Environmental Situation in the US and Hawaii"
9/9 (SAT)
AM
Field 3  Hanauma Bay Sea Grant Program
PM
LEC 5 "Management of Hanauma Bay"

9/10 (SUN)
ALL
Free Time
9/11 (MON)
AM
Field 4 Lyon Arboretum
LEC 6 "Plant Conservation & Biodiversity"
PM
LEC 7 "Economics of the Management of Invasive Species (TBC)"
LEC 8 "Terrestrial Issues"
9/12 (TUE)
AM
Field 5   HIMB Coconut Island
LEC 9  "Marine Resources Management & Invasive Weeds"
PM
English Class 
LEC 10  "Climate Change and Sea Level Rise"
9/13 (WED)
ALL
Field 6 Dolphin Tour
9/14 (THU)
AM
LEC 11 "Economics of Climate Change" (in Japanese)

PM
Field 7 Kalaeloa Solar Two (KS2) Facility
LEC 12 "Solar Energy and its Prospect"
9/15 (FRI)
AM
FSA Student Presentation

PM
Free Time
A dinner party meeting
9/16 (SAT)
AM
PM
10:30 Leave Hotel
13:45 Leave Honolulu Airport(CI017)
next 16:55 Arrive at Narita
Final meeting
Report from Student
Photo Report