Required abilities
The ability to play a role in the international arena is demanded of global workers. Mandatory skills include global experience that allows you to accept different cultures and value systems and global communication skills that make it possible to effectively communicate and work closely with various types of people.
In addition, a capacity to learn that enables you to collect, analyze and make judgments even in unfamiliar circumstances is also indispensable. On top of these basic abilities, specialized skills are also required including the ability to acquire both basic and specialized knowledge and to effectively utilize such knowledge.
Global experience, global communication skills, learning capacity and specialized skills are prerequisites for members of a global workforce. The Department of International Business helps you systematically develop these global skills by nurturing global interests, experience and knowledge.
A skill-based developmental curriculum
Setting the following four abilities as mandatory global workforce skills, the Department of International Business offers a curriculum that enhances each of these abilities.
Specialized skills
Capacity to learn
Global communication skills
Global experience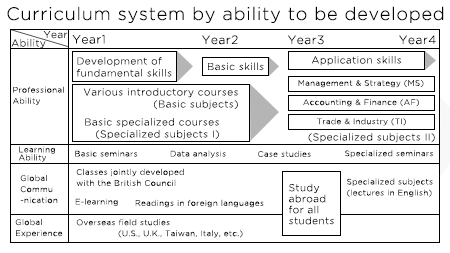 Courses designed to enhance specialized skills
General knowledge on the international economy and business administration is required in order to enhance your expertise on international business. The best path is to accumulate basic skills in a specialized field based on such foundational general knowledge, then attain specialized knowledge and acquire the ability to apply this specialized knowledge.
Students choose a specialized field of interest from three courses of study: Management & Strategy (MS), Accounting & Finance (AF) and Trade & Industry (T&I), and strive to enhance their specialized skills in their respective field.
Studying abroad in the fall of the second year
In order to strengthen global communication skills and expand global experience, two of the four abilities demanded of a global workforce, as a rule, all students study abroad in the fall of their second year as a rule. In the overseas learning program, students study not only foreign languages but also specialized subjects such as economics and business while engaging in market research.
We hope that our students will carefully observe the cultures, customs and consumer behaviors existing in the host countries and leverage their learning experience in their future careers.
For this reason, we select the destinations for our foreign exchange program from the perspective of prospective business partners for Japan such as Asian and European countries, with a particular focus on Croatia, in addition to English-speaking nations such as the U.S. and Canada.
Click here for the list of destinations for the foreign exchange program
Ideal student
Amid the progress of globalization of the economic and social environment, we seek students who are determined to proactively develop their career paths and have a strong appetite for learning. Whatever profession you choose in the future, it is indispensable for you to have a global perspective and think about your social interactions in such a context so as to survive in the real world.
Our department is suitable for those who are keen to delve into such a context from the perspectives of economics and business.