Report from Professor : Makiko Omura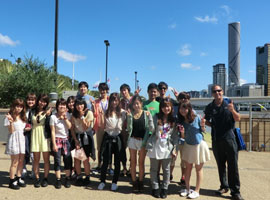 "The First Field Study in Queensland"
It was our first Field Study (FS) B programme in Australia, hosted by the University of Queensland. The idea was initiated from an introduction to a personnel at the Queensland Government Tokyo Office by one of the FSA lecturers in Hawai'i. After an initial meeting at the Tokyo Office, then another meeting with Ms. Winton of ICTE-UQ, and through numerous e-mail communications with the ICTE-UQ personnel including Ms. Blanchard, a comprehensive programme was put together. During this preparatory phase, Mr. Sato of Tokyo Office gave us a special lecture on agriculture, environment and economies of Queensland. The ICTE-UQ is an extremely well-organised institute which has been hosting many programmes from various foreign institutions, and this made the programme organisation from my side much easier. Brisbane, where the main UQ campus is located, is a beautiful city with slowly flowing Brisbane River, and we can go to the university from the city taking a ferry. It was fairly hot and unexpectedly humid, nonetheless, it was relieving that all 10 female and 6 male students completed their programme fine, without being caught in any accident or illness. For the students, homestay was apparently a very fruitful experience. I would like to express my sincere gratitude to all of those who enabled this FS programme.
The FS programme was comprehensive with 6 English classes, 9 lectures, and 10 site visits. We were able to learn wide range of subjects, from Australian agriculture, environmental issues to the relationship between Australian agricultural products and the Japanese market. All of the contents were informative. In the beginning, there was not sufficient number of questions coming out from the students, yet as time goes by, they became more engaged and active, asking more questions. I would hope that the students, who tend to be passive in Japanese classrooms, have realised some positive changes in themselves. That would certainly be an important desirable change.
Programme : 2014/2/16--3/1
2/16 SUN
PM
Depart Narita JQ012
2/17 MON
AM
Arrive Gold Coast Airport, Meet UQ Group Leader
Board coach to UQ
Official Welcome to ICTE-UQ
 - Store Luggage
 - Program Introduction
 - Receive Gocard (Transport card)
English for Special Purposes - Agriculture and Economics
Official Group Photo
English for Special Purposes - Agriculture and Economics
Session includes UQ Aussie Conversationalists
PM
Campus Tour
Set up Internet Access
Presentation: Sustainable Economies - The Australian Perspective
Sustainability and real life issues in Australia
Presentation concludes
Group Leader to accompany Ms Makiko Omura to accommodation
2/18 TUE
AM
English for Special Purposes - Agriculture and Economics
English for Special Purposes - Agriculture and Economics
PM
Presentation: Overview of the Economics of Australian Presentation: Agricultural Economics and Marketing
2/19 WED
AM
Coach to Sirromet Wines from GPN3 Bus Stop
Site Visit: Sirromet Winery
PM
Coach to UQ
Presentation: Coral Watch
2/20 THU
AM
English for Special Purposes - Agriculture and Economics
English for Special Purposes - Agriculture and Economics
PM
Site Visit: UQ Experimental Mine
2/21 FRI
AM
Presentation & Site Visit: Australia's Landcare System
Lunch at UQ Gatton Campus
PM
Site Visit: Bauer's Organic Farm
2/22 SAT
ALL
Activity: Day Trip to Springbrook National Park (with eco guide)
2/23 SUN
ALL
Free day
2/24 MON
AM
Presentation: Australian Beef Industry
Presentation: Australian Wheat Industry
PM
Presentation: JBS Australia - Dinmore
2/25 TUE
AM
Board coach from GPN3 Bus Stop for visit to Sunshine Coast
Site Visit: Cedar Hill Corporate Group
PM
Site Visit: Maroochy Agricultural Research Station
2/26 WED
AM
Board coach at GPN3 Bus Stop for transfer to Cleveland
Vehicular Ferry departs Cleveland for Stradbroke Island
Field Trip: Stradbroke Island
Goompi Trail Walk
PM
Activity: CoralWatch
Vehicular ferry departs Stradbroke Island for Cleveland
Arrive at UQ GPN3 Bus Stop
2/27 THU
AM
Presentation: Coral Watch
Program Evaluation and Review
Farewell Ceremony, Farewell Lunch
PM
Free Afternoon
2/28 FRI
ALL
Homestay family to drop student at UQ with luggage
Coach transfer to the Gold Coast from GPN3 Bus Stop
Free time on the Gold Coast
3/1 SAT
ALL
Check out of Hotel
Coach to Gold Coast Airport
Depart Gold Coast JQ011(10:50-18:55)
Report from Student
Photo Report