2016 Report on the Field Study A in Australia
Report from Professor : Makiko Omura
2016 Field Study A: Australian Agriculture and Japanese Market
"The Second Field Study Programme in Australia"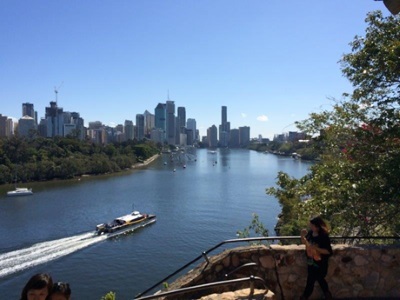 A magnificent view from the lookout point in Brisbane
This was the second field study programme in Brisbane, Australia. After arriving to Brisbane in early morning, we took breakfast in town and headed to the University of Queensland (UQ), our host institute, to be welcome by host families. This time, each student stayed in a different homestay family. The programme commenced the following morning at the UQ, where the students took 6 English language classes specialised in the study topic, agricultural economics related 11 classes, and 10 field visits.
This time, we had a new lecture/visit at the School of Agriculture and Food Science, where we learnt about various scientific approaches to food safety, efficient production and health promotion. The most memorable visits this time were a visit to JBS Australia, the world largest meat company, and another visit to Springbrook National Park. In the former, we first learnt about their market strategy and the long-term meat trade relationship between Japan and Australia. Then we visited inside the factory and saw meat being processed in different lanes for different exporting countries such as Japan and EU, which made us think about differences in their regulations. In the latter, the ecotour made us feel the rich biodiversity of rainforests in Australia, where climate generally tends to be dry. We could fortunately complete our visit to the park as planned, despite the late arrival of one student in the morning, thanks to the flexible arrangement by our ecotour guide. As a new challenge, the students conducted a market survey in Brisbane, and they presented their results on the last day. They made good efforts in analysing local food products from different perspectives. It was also a good opportunity for them to learn what they could have done better. The programme ended with a farewell lunch with delicious pizzas at the UQ café restaurant.
Some students were worried at first about the single homestay arrangement. Nonetheless, they all seemed to have enjoyed their homestay life with their host families. There was an incident in which a student left his wallet on the bus to the university, however, it was fortunately retrieved intact. I would like to express my sincere gratitude to everyone who has made this programme possible.